The Witch and the Hundred Knight - Revival Edition ps4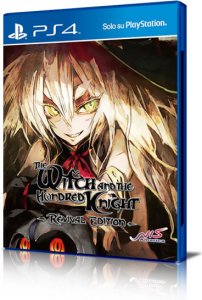 Piattaforme:
Stufa di non essere in grado di viaggiare oltre i confini della sua palude, la strega Metallia stipula un contratto con il leggendario Hundred Knight per aiutarla a realizzare la sua ambizione di espanderla in tutta Medea.

Come Hundred Knight, la tua missione è quella di fare qualsiasi cosa la tua Maestra comandi. Esplora il mondo, distruggi i Pilastri costruiti per prevenire la diffusione della sua palude e devasta tutto quello che incontri sul tuo cammino. Tuttavia, nel profondo della tua mente disumana inizierai a chiederti… Cosa impedisce a Metallia di lasciare la palude? Perchè le altre streghe la evitano e come può vivere in una palude nota per i suoi fumi velenosi? Metallia è una strega da rispettare o è una di quelle di cui avere paura?
Sviluppato:

Pubblicato:

Distribuito:
Giocatori

1

Lingua

En/Jp (audio)
Eng (testi)

Manuale

Ita

PEGI

16+

Supporto

Blu-Ray
I VIDEO
The Witch and the Hundred Knight: Revival Edition - Trailer di lancio