The Witch and the Hundred Knight 2 ps4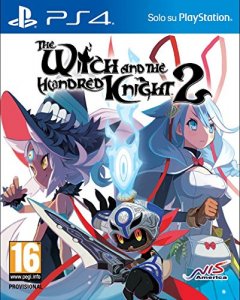 Piattaforme:
The Witch and the Hundred Knight 2 è un GDR d'azione all'interno del quale potrai avvalerti di armi combo, di abilità, di aiutanti chiamati Tochkas e di particolari corazze dette Facets per affrontare battaglie attraverso mondi unici.

Vesti i panni di Hundred Knight, una bambola in cui la strega Chelka ha infuso il soffio della vita. Scopri i segreti di un mondo pullulante di magia e tuffati in ambientazioni lussureggianti colme di misteri e pericoli inimmaginabili.

Affronta battaglie frenetiche e sbaraglia i nemici con armi possenti! Utilizza un arsenale di nuove abilità e annienta tutti quelli che ostacolano il tuo cammino!
Data di uscita

30 Marzo 2018

Tipologia di gioco
Sviluppato:

Pubblicato:
Giocatori

1

Lingua

Eng (testi)

PEGI

16+

Supporto

Blu-Ray
I VIDEO
The Witch and the Hundred Knight 2 - Trailer di lancio